Distinguishing features of visitor management system during pandemic recovery
CATEGORIES

31 MAY 2022

Best Practices
With the pandemic crisis, creating awareness about the high risks of infection in confined workplaces has become more important. A visitor management system software is one of the best ways to maintain COVID-19-appropriate behavior.
Many reputed and leading organizations have taken many measures to control the risks of infection during pandemic recovery. Besides using sanitizers and masks, the idea of using visitor management software contributed to reducing the spread of COVID-19.
The visitor management system has become a crucial part of almost every organization. Let us talk about some of the distinguishing features of the visitor management system which helped during pandemic recovery –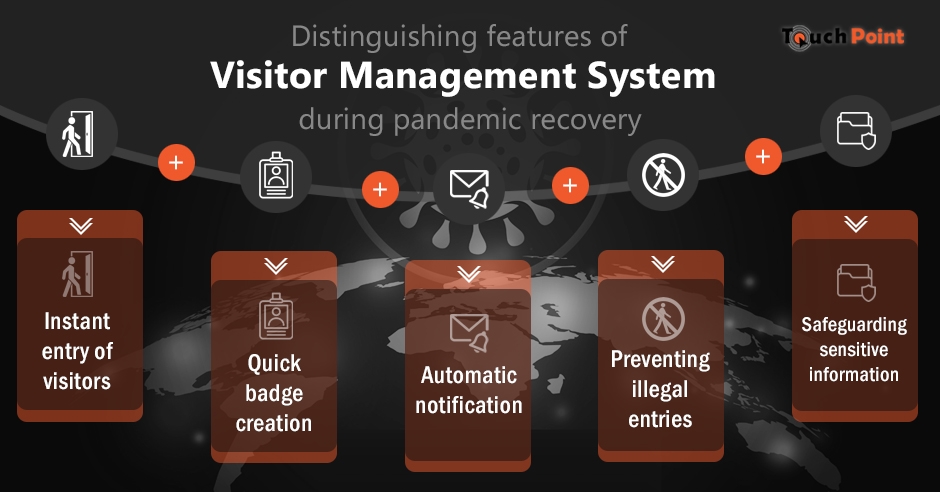 1. Instant entry of visitors:
As soon as any visitor visits your organization, the visitor management system ensures to update all the required details. The visitors can answer the installed questionnaire to provide the required details without any hassles.
2. Quick badge creation:
The visitor pass management system can also be relied on to create an instant barcode badge or credentials. Whenever the badge is scanned, it displays all the required information about the visitor, including name, photo, entry and exit time, health status, etc.
3. Automatic notifications:
One of the most important features of the visitor management software is automatic notifications. You can get instant and automated notifications as soon as the visitor arrives or exits. Thus, it helps to easily and accurately track the visitor's actions.
4. Preventing illegal entries:
Using the visitor pass software facility, the organizations can prevent illegal entry into the premises. Only visitors with an authentic and authorized gate pass can be allowed in the organizations.
5. Safeguarding sensitive information:
Last but not least, the visitor management system also helps in maintaining the privacy of the organization's sensitive information.
The visitor management system software adapts to the work style in the organization to ensure leveraging its maximum benefits. As it overshadows traditional methods, it is certainly a cost and time-effective solution.
Ask For A Free Live One-on-One Demo. Our experts will demonstrate all Key Features & Functionalities
Call us today at

+919840075250

or Email us at

sales@cogentmail.com
Request Demo