How compliance and audits are made easy with the visitor management system?
CATEGORIES

21 JUN 2022

Best Practices
It is no surprise that the market size of the visitor management system software will increase in the coming years. With more and more organizations becoming aware of the need for touchless transactions, the market will expand to the next level.
As a result, businesses should be well-prepared to embrace the benefits of the visitor management software, especially when talking about compliance and audits. The visitor management process streamlines compliance and audit activities to reduce stress and confusion.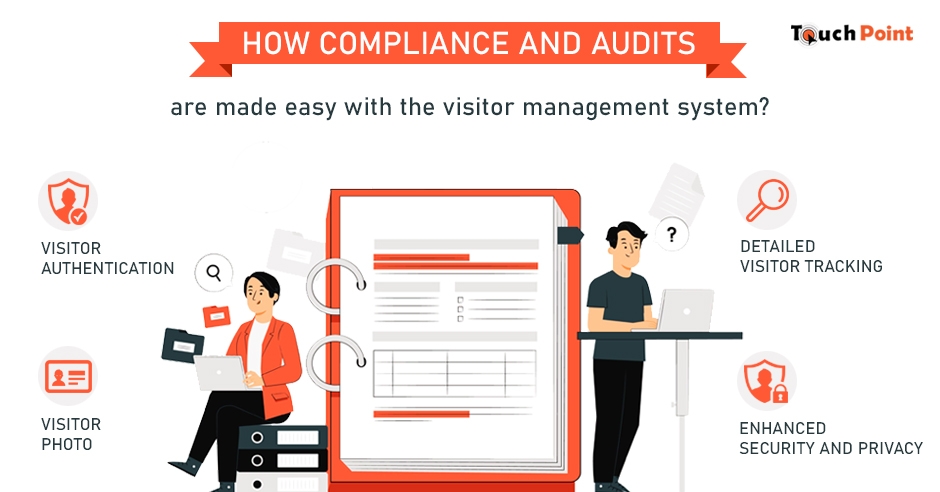 Benefits of visitor management system for compliance and audits –
With the changing laws and regulations, relying on a visitor management solution is important to avoid potential fines, penalties, etc. Below are the following benefits of a visitor management system for compliance and audit needs:
1. Visitor authentication:
Compliance and audits demand authentication and authorization. Thus, the visitor gate pass software confirms and assures the real identity of the visitors using an authentic ID. The system confirms the available information against the other 3rd party database like the criminal list, etc.
2. Visitor photo:
Another important need for seamless compliance and audit activities is keeping a record of visitors' photos. The visitor pass management system takes the required photos and other important details of the visitors, which can enhance security.
3. Detailed visitor tracking:
Compliance and audit are not just one-time activities. Thus, you will have frequent visitors to your premises. The visitor tracking system allows knowing and confirming – who, where, and when the visitor will arrive. It allows maintaining a detailed log of every visitor's activities for the seamless working of the organization.
4. Enhanced security and privacy:
The use of visitor management system India supports digitalization to record and store visitors' information in the cloud-based guest books. As a result, it enhances security and privacy for any kind of emergency.
Conclusion:
Whether you are struggling with internal audits or other regulations, using the right technology can be a life-saver. The visitor management software can effectively take the burden off the shoulders to streamline the required compliance and audit activities.
Ask For A Free Live One-on-One Demo. Our experts will demonstrate all Key Features & Functionalities
Call us today at

+919840075250

or Email us at

sales@cogentmail.com
Request Demo