Importance of material management in the construction industry
CATEGORIES

24 MAY 2022

Best Practices
Considering workflow, productivity, and profitability, material management is one of the construction industry's major needs. While many people just associate material management with purchasing and selling materials, the material gate pass management system stretches its boundaries to a wider range of activities.
Investing in an improved and well-strategized gate pass management system for material can positively impact the construction industry's overall progress. On the other hand, choosing an average material management system can decrease labor costs and productivity while compromising deadlines.
Thus, relying on the best and most effective strategies of the material gate pass management system is essential. Here are some other points to illustrate the importance of material management in the construction industry –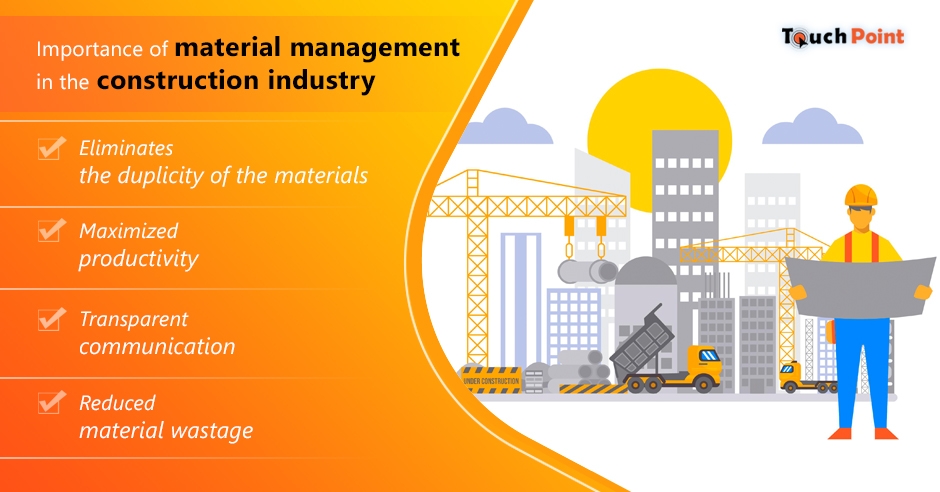 1. Eliminates the duplicity of the materials:
Thanks to the systematic movement of material using the inward and outward gate pass, the material management system helps in reducing the duplicity of the required materials. As a result, it ensures proper management, preservation, and calculation of the required and available material resulting in reduced cost of purchasing.
2. Maximized productivity:
With the availability of high-quality material at the right place and at the right time, using the gate pass management system, the construction industry can ensure maximizing its productivity. It also reduces the waiting time for the essential material, thus, boosting productivity.
3. Transparent communication:
To reduce the material's duplicity and improve productivity, the construction industry cannot miss an effective material gate pass management system. A good material management system includes transparency in scheduling, tracking, and recording the arrival and exit of materials.
4. Reduced material wastage:
Lastly, a material management system reduces the waste of essential and valuable materials/resources. It helps maintain the balanced outlook of the required material, thus preventing purchasing excess material.
By implementing an efficient material gate pass management system, the construction industry can take its potential projects to the next level. What are your thoughts on using material management systems in the construction industry?
Ask For A Free Live One-on-One Demo. Our experts will demonstrate all Key Features & Functionalities
Call us today at

+919840075250

or Email us at

sales@cogentmail.com
Request Demo