Protect your workplace from cyber security threats using the visitor management system
CATEGORIES

10 MAY 2022

Best Practices
As we move towards digitization, cybercrime risks have also increased. Almost every organization is at risk of potential cyber attack unless using some effective solutions like a visitor pass management system.
While protecting your workplace from these cyber-attacks may seem tedious, fortunately, visitor management software is one of the reliable solutions. With the successful implementation of a visitor management system, your organization will be less prone to possible cyber attacks. Let us explore more.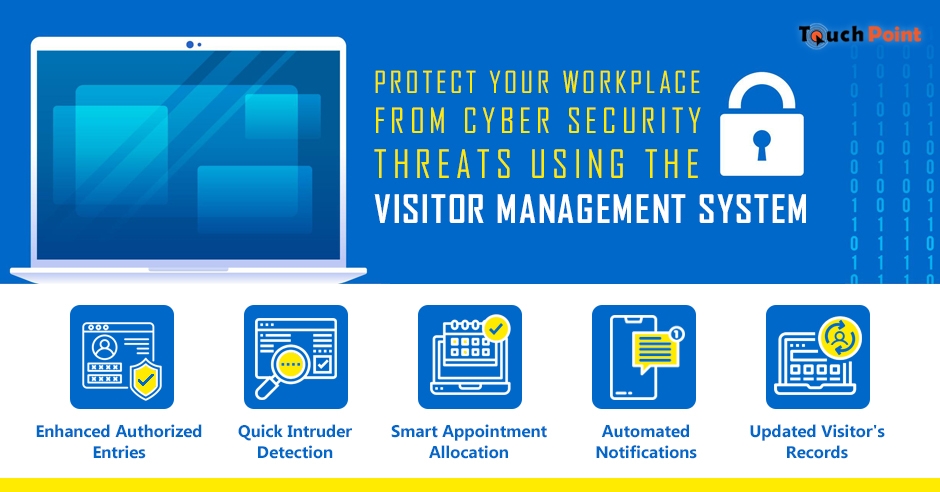 Visitor management software to protect your workplace from cyber threats –
1. Enhanced authorized entries:
A visitor management system uses unique barcode badges to enter the details of individual visitors. Thus, allowing the required access only to authorized and authentic visitors becomes easy, resulting in better safety of sensitive information.
2. Quick Intruder detection:
Besides preventing any illegal entries into the organization, the visitor pass software also helps instant identification of intruders. The system ensures that only genuine visitors enter the premises.
3. Smart appointment allocation:
The visitor management system software majorly eliminates the possibility of collision of visitor's appointments. This ensures maximum privacy for the visitors and the employers, thereby improving the safety measures in the organization.
4. Automated notifications:
To upgrade the safety measures, the visitor management system alerts the employers upon the arrival and exit of their respective visitors. Moreover, it helps easily track the visitor's movements within the organization's premises.
5. Updated visitor's records:
While manually updating the visitor's data and information in the system can consume a lot of time, visitor management software can automatically update the required information/details without any errors or mistakes.
By offering effective measures against cyber threats, you ensure safety for your employees and visitors. This results in boosting productivity and better prevention of sensitive information.
Do let us know your thoughts on the effectiveness of visitor management system software against cyber attacks. We would love to hear from you.
Ask For A Free Live One-on-One Demo. Our experts will demonstrate all Key Features & Functionalities
Call us today at

+919840075250

or Email us at

sales@cogentmail.com
Request Demo